Other "Longevity" Drinks recipies

Chinese herbal Drink, Wong Lo Kat, Wong La Oji
Water, white sugar, mesona, dan hua, Bu Zha ye (Microcos paniculata Linn), Chrysanthemum flowers, jin yin hua (Lonicera japonica Thunb.), Prunella vulgaris, and licorice. (The "Dan hua" does not refer to eggs, but refers to the Apocynaceae species).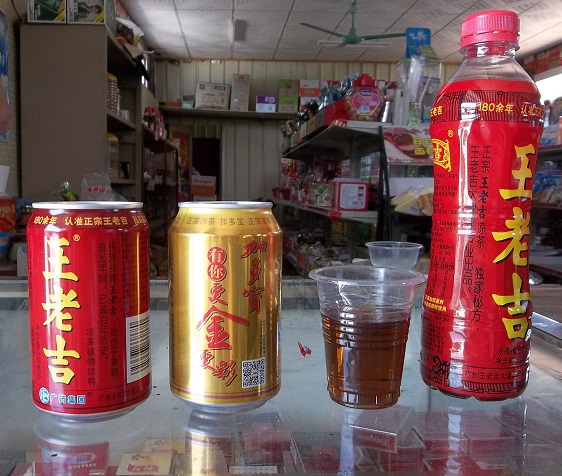 Article Source: http://EzineArticles.com/5005786
ingredients: Radix Ilicis Asprellae, Semen Oroxyli, Herba Helicteris Angustifoliae, Herbal Polygoni Chinensis, Rhizoma Lygodii.
The ingredient for this Jia Duo Bao(???) include: Water, Sugar, Dianthera, Frangipani, Microcos Paniculata, Chrysanthemum, Honeysuckle, Prunella and Licorice.
Almost every grandmother has in her treasures her own recipes for long life and health, beautiful body. Every exhibition or exhibition associated with food, health or a healthy diet also has hundreds of small exhibitors with their ONLY, best recipes in the world for long and healthy life. The Internet is also teeming with the like, and we cite only some of them.

1. Japanese aojiru (1), (10)
Powdered organic kale or young barley leaves that are mixed with water or milk - has a high food value.? Aojiru is disgusted that drinking a glass of water is a common punishment for Japanese TV game shows. However, the new preparations of aojiru tried to minimize the bitter taste of the original.?
2. Longevity Drink For Life | Dr. Theresa Ramsey? (2). Turmeric, ginger with peppercorn, lemon
3. Juice of pear, celery, cucumber, parsley, ginger and orange - a recipe of Maria Seward.
4. Koktail -Broccoli, spinach, green apples and avocado
5. Carrot Koktail - ? A great way to detox a liver is to regularly drink fresh carrot juice. During the preparation, you can add fresh cucumbers or beets as well as apple. The juice should be drunk three times a day for two or three weeks.
6. Dr. Fuhrman's Green Longevity Drink? (3)
7. Dr. Dharma's Longevity Green Drink? (4), Lighten your mind, detoxify your body and lose weight quickly!?
8. Cactus-Aloe Smoothie, the SUPER Longevity drink??? (5)
9. Kombucha-life-extending drink-long-life? (6)
10. Tibetan potions of youth and longness - lemon, honey bee and olive oil? (7) (9)
11. Renaissance's Longevity Health Drink - Ingredients; contains 95 trace and colloidal minerals, enzymes, and amino acids:
- Whole Leaf Aloe Vera: Pure Cold Processed Aloe Vera with High Polysaccharide content.
- Aloe Vera Gel Pulp: Pulp from the Inner Gel Fillet.
- Red Grape Seed Extract: Potent Anti-Oxidants to fight free radicals.
- Pine Bark Extract: A Strong Anti-Oxidant and Bioflavanoid source.
- Colloidal Minerals: More than 65 Trace & Ionic Minerals that connect your cells.
- R-Herb Blend: Gingko, Ginseng, Pau d'arco, Suma, Kava Kava, Echinacea.
- Cat's Claw Bark: A medicinal herb from the Amazon that delivers phytonutrients and anti-oxidants.
- R-Vit: Select Vitamins (C, A & Selenium) that synergize with the bioflavanoids.
- Beta Carotine: A powerful source of anti-oxidants and immune system enhancers. Spirulina: Delivers balanced protein (all 9 essential amino acids) and is high in nutrients.
- Spirulina: Delivers balanced protein (all 9 essential amino acids) and is high in nutrients.
- All of that, plus 100% of the RDA of vitamins, A, C, D, E, and B Complex along with additional iron, zinc, selenium, Chromium, Calcium, and Potassium, all in a base of pure, cold pressed freeze dried Aloe Vera. And It really taste good!
Get a bottle today, and start live longer younger! Get it!
12. Other ?? Longevity Eliksirs (8)
13. Taoist Longevity Tonic Ingredients: Atractylodes macrocephala, Jujube date, Codonopsis root, Saposhnikoviae, Poria, Poria spirit, Lycium, Astragalus, Ophiopogon, Notopterygium, Cinnamon Bark, Dogwood Fruit, Raw Rehmannia, Prepared Rehmannia, Fructus Schisandrae Chinensis. (11)
Links:
(1) https://www.city-cost.com/blogs/Rei/wjnEw?
(2) http://www.drramsey.com/longevity-drink-recipe-thank-cheryl/?
http://www.azfamily.com/story/29548427/tuesday-july-14-2015-longevity-drink-by-dr-theresa-ramsey?
(3) http://www.vegetariantimes.com/blog/taste-test-dr-fuhrmans-green-longevity-drink?
(4) http://www.drdharma.com/Public/Supplements/GreenDrink/?
(5) http://mazharsuggests.blogspot.com.mt/2015/10/amazing-benefits-of-cactus-and-aloe-vera.html?
(6) https://martabrzoza.pl/porady-zdrowotne/kombucha-zyciodajny-napoj-dlugowiecznosci/?
(7) https://krokdozdrowia.com/eliksir-mlodosci-dlugowiecznosci/?
(8) http://kuchnia.wp.pl/eliksiry-dlugowiecznosci-6054907539645057a?
(9) http://sekrety-zdrowia.org/trzy-skuteczne-receptury-tybetanskie/?
(10) http://slism.com/diet/aojiru-green-juice-diet.html?
(11) Yan Nian Yi Shou | Live 100 Years | Taoist Longevity Tonic